Who We Are:
VOA Illinois works to correct life's greatest inequalities. We serve individuals and families who need it most, when they need it most, by ensuring they have a place to call home and the support they need to thrive. We believe that when the people we serve can thrive today, our communities are stronger tomorrow.
"TO GO WHEREVER WE ARE NEEDED
AND DO WHATEVER COMES TO HAND."
Our mission: VOA Illinois supports individuals, families, and communities who need it most, when they need it most.
Volunteers of America is a national nonprofit organization providing local human service programs and the opportunity for individual and community involvement. The words "there are no limits to caring" represent an enduring philosophy of service that spans three centuries. The founders' pledge "to go wherever we are needed and do whatever comes to hand" still guides the organization's growth and development efforts today, more than 125 years since the organization's birth.
VOA Illinois in action
Jason Parisi, a resident at our Spruce Manor supportive housing development for adults with disabilities, is highlighted for his amazing decorations and the spirit he provides to all of the residents.
My Journal Courier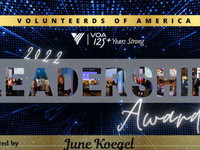 VOA Illinois' very own LaShonda Ross, Senior Director of Foster Care, was honored with the Program Management Leadership award at the Volunteers of America National Conference in June 2022.
YOUTUBE
Hear about the incredible and inspiring story of a child who spent over 4,700 days in foster care and recently was adopted into her forever home.
YOUTUBE
Find Services Offered By
VOA ILLINOIS
Follow Us!
Twitter feed is not available at the moment.